How bad is your presentation management? It might seem like a pretty direct question, but few of us really know what presentations management is actually about. Let alone how to be any good at it.
Most of us can relate to a plethora of presentations floating around on memory sticks, shared drives, various cloud services, and of course on our trusty desktops. But it's exactly this organisational 'system' which causes us problems when we try to find the best presentation we made a few years back, and our colleagues problems when they promise to send us slides from the last company conference.
Sound familiar? Without having a place where business presentations can go to rest once they've been shown off, we're creating a repetitive work culture. With teams having to re-create the essence of a good slide they saw a while ago. Rather than being able to simply find the slide and repurpose it.
"Without having a place where business presentations can go to rest once they've been shown off, we're creating a repetitive work culture."
Click To Tweet
This also carries through to other parts of presentations. Approved logos, fonts and colors fly around without expiry dates and are subject to misuse by well meaning employees who for example, have just returned from their holiday. This makes presentations far more difficult to manage. As not having one place for up to date information means that employees often just use the first thing they find. Presentation management is a way to solve all of these problems, and more.
What is Presentation Management?
Presentation management is a way of structuring how presentations are made, stored, and shared in teams. It is user focused, and ensures that presentations live in a secure and defined place in a company which is super easy to navigate. Some organizations also use this as a place to keep their best presentations, pitch decks, and templates.
On the whole, presentation management for businesses means giving proper thought to three areas:
1. Quantity of Presentations
Storing presentations in a way which is practical and useful to those making them.
Dealing with many presentations means having searchable functions such as tagging, or other structures to make it easy to find files in the future.
2. Quality of Presentations
Creating a high level of quality for all presentations in the future.
Ensure that all of the materials and guides needed for employees to make the best presentations are in one easy to find place. That way, spontaneous uses of 'creative license' can be avoided.
3. Making full use of Previous Presentations
Properly making use of each business presentation ensures that productivity is at its peak, brand guidelines are kept clear, and time is not wasted correcting mistakes, or repeating the same content.
This may include keeping centralised presentations for certain events such as health and safety procedures, onboarding new employees, or researching for future presentations.
Getting the most out of presentations can make a big difference in the day to day workings of teams, and can take the place of many external agencies, from new onboarding courses to freelancers who need to know what the company is about, quickly.
Quantity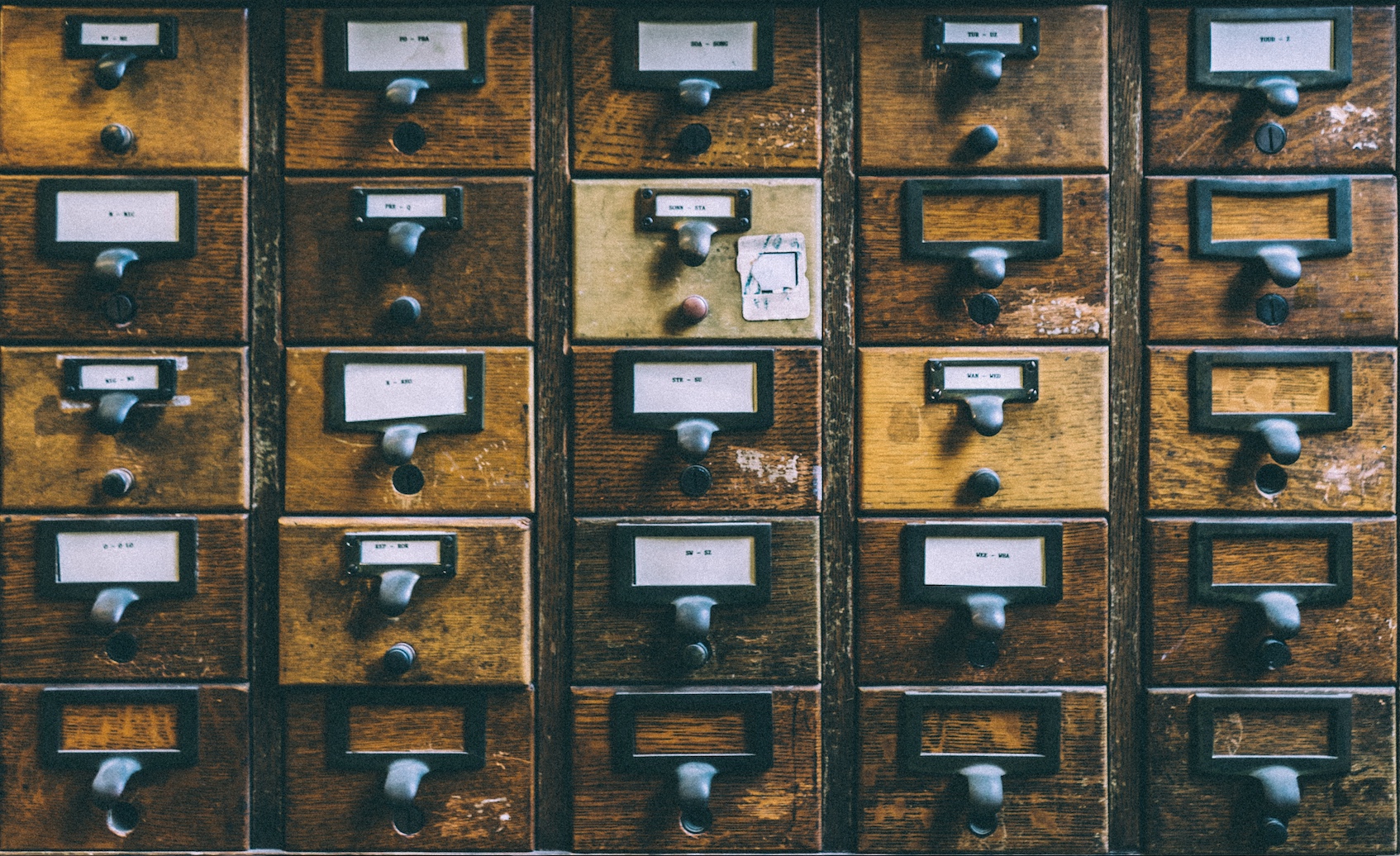 We all know that finding a presentation that we haven't cleverly stored on our desktop is a hassle, and trying to find a particular slide can be even worse. It takes up a lot of time opening each presentation we come across to see if it's in there. But there are numerous ways to combat presentation frustration and locate your whole team's presentations easily. From company conferences to investor reports, keeping everything in a logical order can make everything much simpler for everyone involved with the right presentation management.
Although finding the best presentation software out there may be on some peoples minds, presentation management doesn't mean downloading a new program and investing in learning how to use a new piece of software. It can be simple.
Folders
Some companies create folders on their shared drives for people to upload their presentations, and make their teams aware of any changes via email.
For example – Shared Drive >> Presentation >> Marketing >> Reports >> 2018 >> May
This is probably the simplest way of coming up with a system in which to store your presentations. But is also one of the easiest to have ignored or messed up.
If you believe that using folders is the best route to go down with storing your presentations, try delegating control in certain departments to one individual. By doing so, you shift the responsibility to one employee, who the rest of the team know will be checking up on them with their presentation management.
Some who use folders also make sure to name their presentations with very long titles, so that they're easier to find later through the search function. For example, instead of twitter-report-2018.ppt changing it to twitter-report-2018-q1-user insights-statistics-RT-likes-mentions-demographics.ppt
Zip it Up

Some people don't like to separate their presentations from other files, because it makes sense to work project by project, or theme by theme. For these teams, having a presentation space for everyone to use might not be the best option. Instead, zipping up files every month may be the right way to handle things.
This is a great presentation management solution for those who want to keep all of their files locally on their computer and also want to be able to save on space.
Slack
Given the recent rise of Slack, many people now us it as their go to for information sharing. Whether that's presentation slides or logo formats, Slack has turned into the hip new storage unit.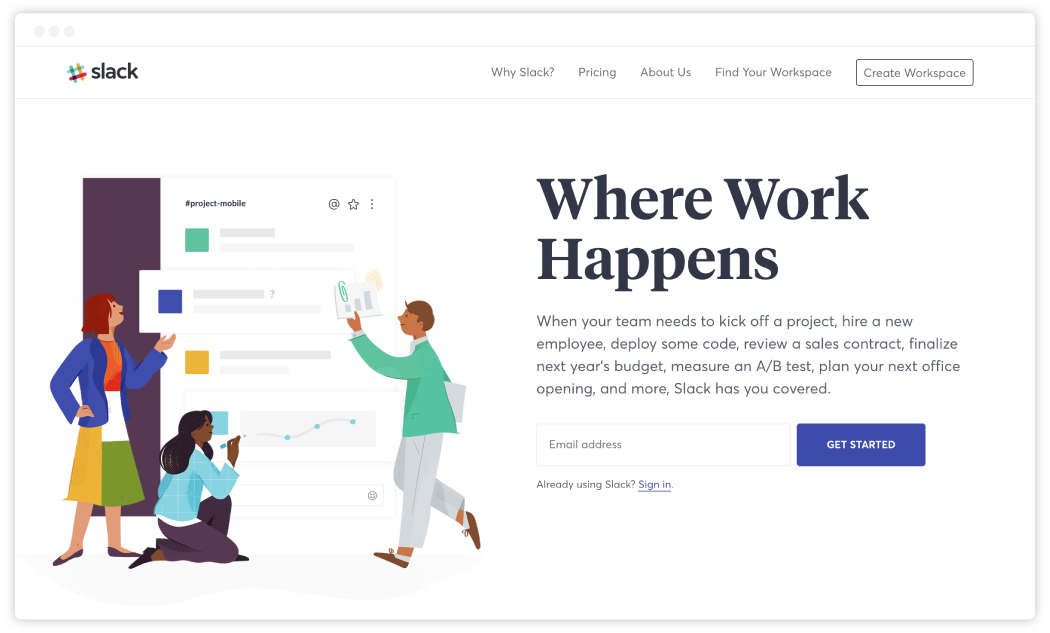 However, the search function on slack can leave much to be desired. With problems such as searching for a particular report resulting in either getting a thousand results or none. Seldom in between.
But, there are better ways to use slack for your files. One of which is to send important presentations to yourself in a personal message. Another way would be to set up a #presentations-2018 channel for everyone to upload their presentations to. This makes it easier to search, as Slack allows you to search inside specific channels with the in: command.

The Cloud
Having a natural place where every presentation is stored can bring value to some teams. Not having to search around for a memory stick, or worry about corrupted files can take an extra layer off the unnecessary stress that comes with certain presentations. In most cloud platforms, the ability to share PowerPoints with colleagues or departments is also a great asset, meaning that information can be easily shared, but still with elements of privacy if needed.
Another good use of cloud services regarding business presentations is to keep a folder of all the company templates which are up to date. This allows for an element of control for the design team in presentation management, and also a way to keep everyone on the right page.
But not every cloud has a silver lining. Some people feel that uploading presentations to cloud services isn't secure enough, or company policy dictates that there is no cloud approved server. Leaving individuals having to look elsewhere.

Multiple Platforms
Using lots of different platforms is another method which is commonly used by businesses. It's often favoured by those who have trouble with business presentations from different departments being mixed up. For some this method works well as it stops files being confused with others, updated or deleted. It also allows teams to designate someone to be in charge of each platform without having to take on the responsibility of everything.
However, for some teams this can cause a lack of accountability, and increase the chances of not storing their presentations where they should be.

Email Presentations to Yourself
Perhaps one of the most common 'storage' system out there – email. Sending presentations to yourself by email is a common trick used by many individuals who want to save on hard disk space without using a cloud platform.
To make the most of this technique, you can easily 'tag' your emails by writing all they key words which may one day help you to find that presentation again.
For instance, if you're sending a marketing report from your latest twitter campaign in an attachment, your email may read 'Twitter, Social Media, Report, Q1 2018, Presentation etc.' But remember that although this may work for individuals with a few presentations, there is no ability for you to view all of your presentations side by side for comparison, or use presentation management for teams.
Quality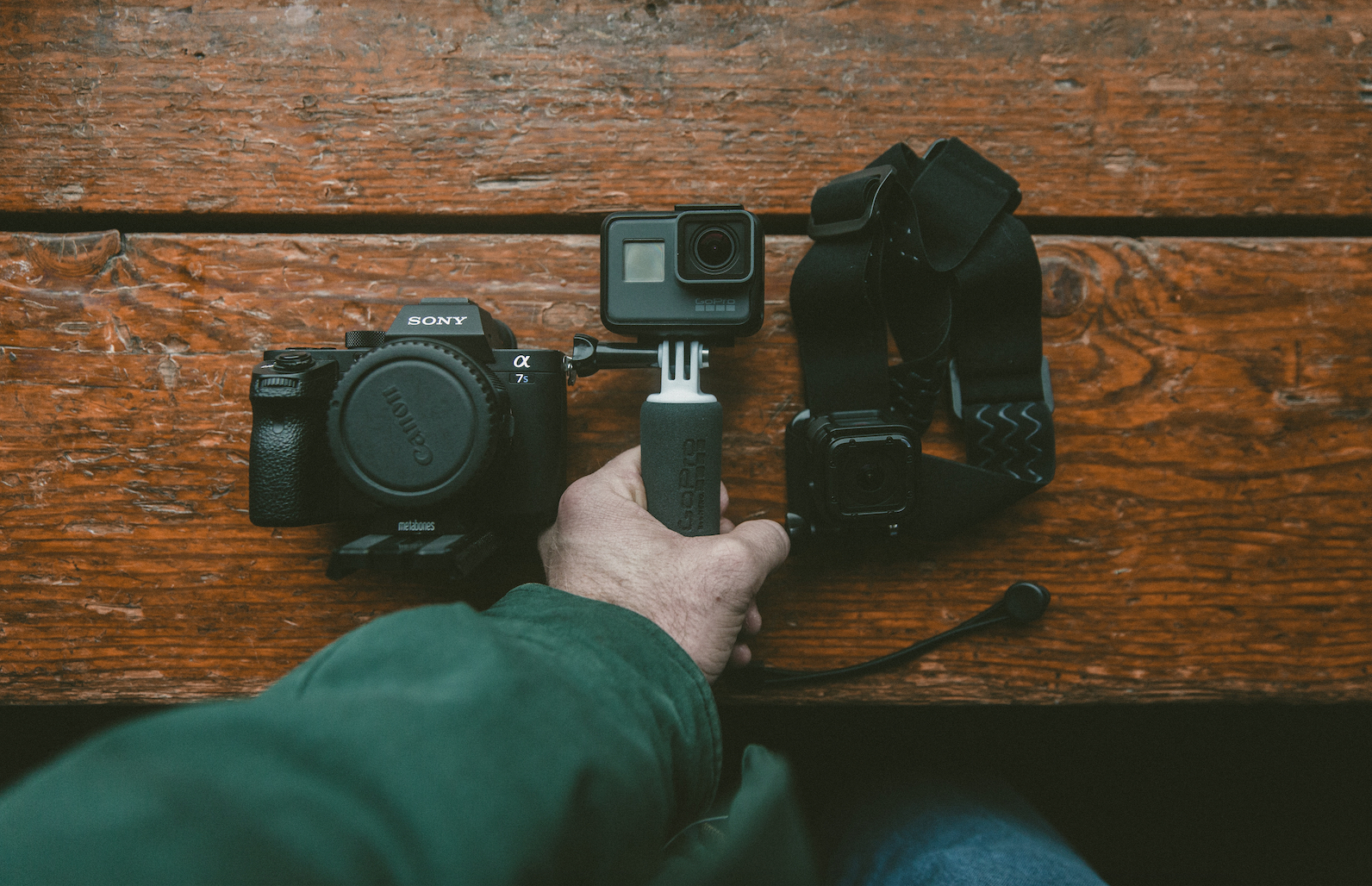 Using presentation management also means keeping up a high standard of quality with all your business presentations. This can be made easier by knowing a few tricks of the trade, and working out what would be appropriate to you, your team and your company as a whole. Creating a mix of the solutions below or sticking to one rigid system can be the right solution, depending on the your company, and your needs.

Corporate Templates
Corporate slides are a common sight in business, regardless of the industry. They are used by companies to keep brand guidelines tight, and to ensure that each presentation is kept in a similar style across the company.
They are normally a set of PowerPoint slides with the company colors, fonts and logos built in as standard to every business presentation. All intended to be used by employees across every department. In some companies, these are updated every quarter. In others, only every few years. But regardless of when they are updated, slide templates are rigid, tricky to fit graphs over, and restrictive of color schemes. However, they do the job. So for some companies who don't make many presentations, corporate templates do the basic task of keeping branding in there somewhere, without much fuss over the specifics of presentation management.

Presentation Templates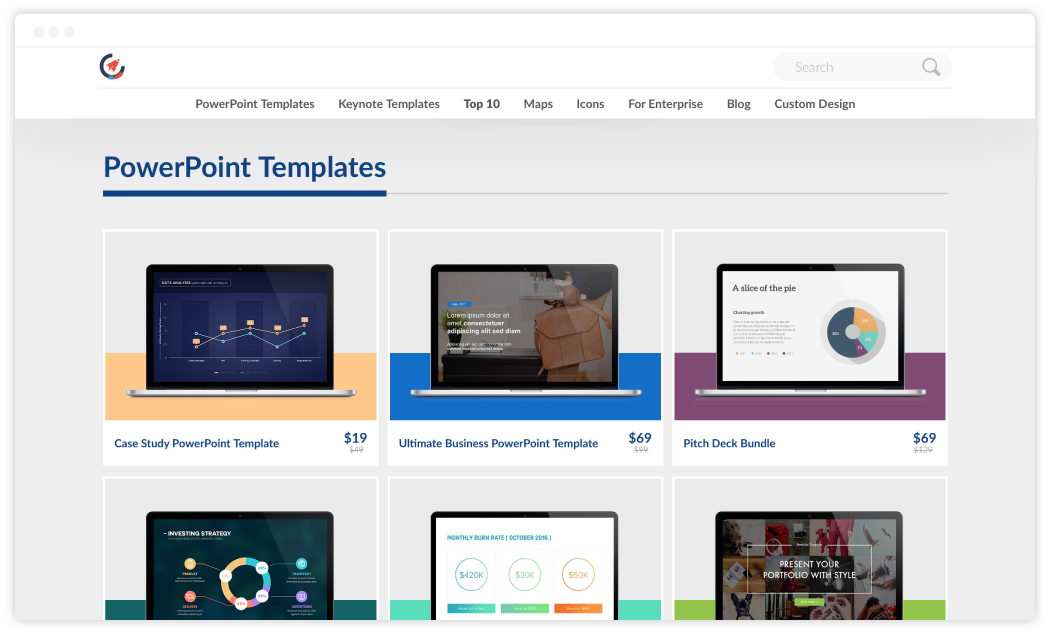 Presentation templates are usually a set of 30-50 sides which have many different formats. From charts to data, and processes to a who's who of team members. Creating well formatted sides can be difficult to create from scratch, so having something to work from with an appropriate, and Keynote or PowerPoint friendly design can be a great asset when weighing up the right presentation management solution.
Although individuals may find benefit in having such presentation templates stored on their desktop, being able to cut and paste slides wherever and whenever necessary, this is not a sustainable solution for large teams who consistently need slides for various purposes.
However, if you're the only person creating presentations in your company, you might want to take a look at Improve Presentation for hundreds of fully editable pitch decks.

Management Systems
Some organisations choose to document every presentation, file, picture etc. in one place. Allowing desktop space to be freed, and data to be updated continuously. This empowers companies who struggle with keeping employees aware of updates to make sure everyone is using the latest data. Whilst also ensuring they are making good quality presentations with the right information.
In keeping a management system active for all company data which is intended to be shared, companies usually choose from DMS, CMS or ECM depending on their needs. These management systems vary by the needs of the company. From ECM systems, which concentrate on extensive documentation, delivery, managing and storing, to DMS which acts more like a filing cabinet for slides, allowing for individuals to quickly locate files in a more organized system than available locally on drives.
If you need to store more than presentations in a logical way, presentation management can be incorporated into such systems easily instead of using the best presentation software which will only help with part of the problem.

PowerPoint Version Control
PowerPoint version control is a function often overlooked by companies who rely on PowerPoint for their presentation making. It's a way for employees to keep one master version of a presentation. Instead of having many of the revisions take up space, and potentially cause problems when presenting the most recent updates of data. Employees can use PowerPoint version control to send their business presentations for review, whilst still keeping the original. Or, they can send it to co-workers for edits, all the while having the clean master version.
Simply open the original presentation, then click review >> compare and follow the onscreen instructions to complete the merging process between PowerPoint files.

Presentation People
Keeping track of the quality of presentations can also be measured by an element found in every office – people. Presentation people, or as they're less fondly known if they do a bad job – 'presentation police', can work to ensure employees know that the quality and style of every presentation must always be kept on point.
Some businesses opt for having presentations scored, but that doesn't work for all teams. Others work on a system of rewards or bonuses for quality presentations, or their own system which has proved efficient before.
Another way companies keep presentations manageable is to designate different members to certain types of business presentations. For example, having John in charge of ensuring that all financial reports are presented with up to date information, whilst Sarah is charged with keeping client reporting up to scratch.
Making full use of previous Presentations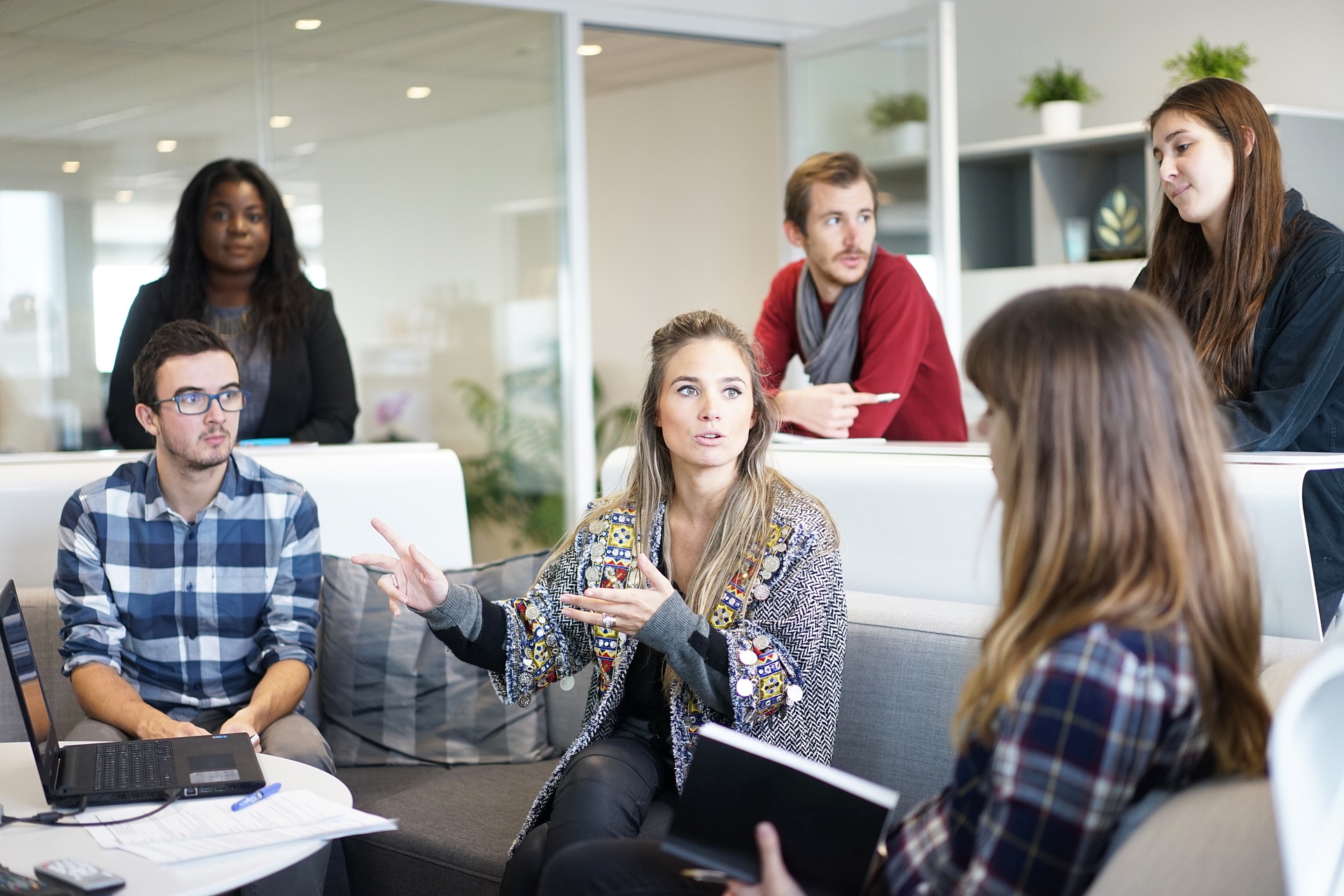 Using presentations to their full potential can cause some serious 'Ah ha!' moments in some offices. This is mostly because presentations are not really anyone's favorite thing to do, and the idea of using PowerPoint for another purpose may seem ridiculous. And that's before even considering the problems of trying to actually locate presentation files.
But once the quality of presentations is improved, the other uses of presentations become clearer. From on boarding new employees, to researching for the next investor update, presentations can be a great way to get a current handle of what is going on in the company.
...once the quality of presentations is improved, the other uses of presentations become clearer. Click To Tweet

Managers and Presentation Management
Management can often find presentation organization a little daunting. There are so many business presentations made everyday, that coming up with a universal solution can seem difficult. And no-one wants to be seen as unofficial branding police for presentation management. Many managers face the presentation decision that perhaps having a good office atmosphere is worth taking the responsibility for the odd bad presentation.
But not all managers find this a difficult decision. Many also ensure that their team are always up to date with the presentation content. But the price to pay is that they are investing time which they could spend working on other projects, instead of presentation management.
Managers can also become a key focus point for presentation related questions, as they often watch most of the presentations themselves, and can act as a good knowledge base of where to start looking for the right information.

Best Presentations
Companies must have a set of best in class presentations for employees to aim for. If your team have no idea what to work towards, creative licenses will be used not only in the presentations themselves, but also in where they store them. If your team don't have a location where your business templates or other presentation materials are kept, you're missing a trick, and you're likely to be causing an organizational mess. Although finding the best presentation software out there is the right answer for some, it's also possible that you just need to find the right storage method for your PowerPoints.
Having a place where you show best practises also serves another purpose. It allows departments to give praise to certain employees, whilst also encouraging others to look up to them for great presentation skills. Keeping your best-in class presentations clear is a must for all companies, both large and small if you want to get employees presenting perfectly.
Catching up Employees
Catching up employees is also a common problem in some companies. From annual leave to unexpected absences, getting everyone on the same page at the same time can be hard. Some businesses use the PowerPoints created since the employee has been away as an audio visual tool for the explanation of events. This allows companies to not skip any changes and not have to spend a morning attempting to recollect events.
By having an upload point for your presentations, catching up those who have been away can become a much simpler process. Whilst also making it easier for the individuals themselves to remember all the events which have happened. Best of all, this would come at no extra cost chasing down presentations, or time wasted having to remember everything that has happened.

Keeping all your Presentations in one Place
Having your presentations easily accessible is great, but what about individual slides? Keeping individual slides for charts, quotes, maps and everything else your team might need is pretty much impossible to do on your own.
But, we have come up with a solution for that problem – google images for presentation slides. In fact an entire library of company branded slides on an online platform for you and your team to access 24/7.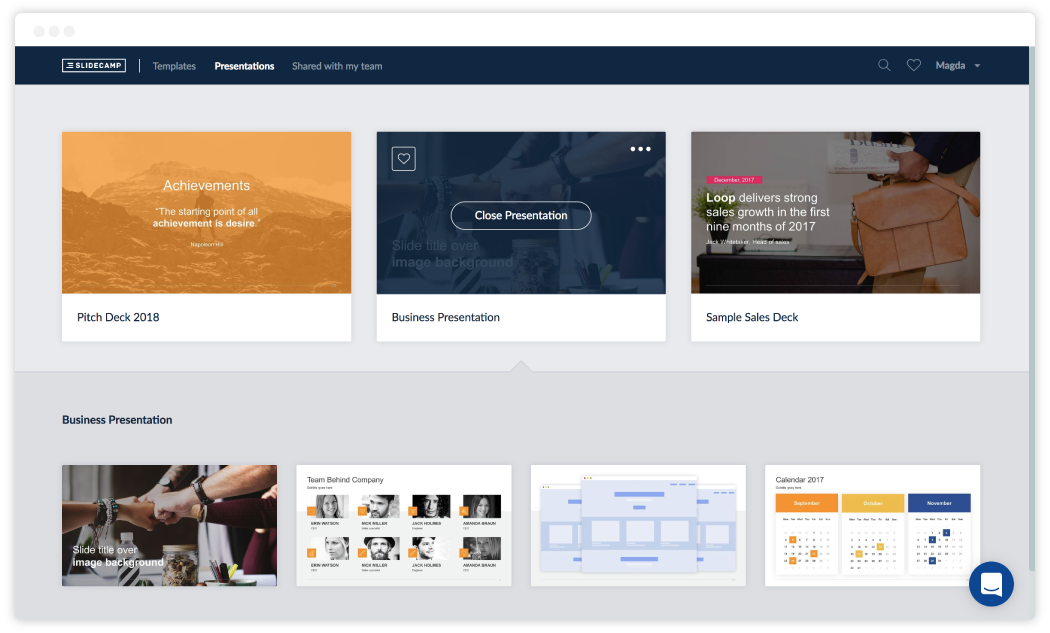 It's called SlideCamp, and it's where managers have control over every presentation, which means being able to oversee that quality, quantity and proper use of presentations is always being handed well.
1. Quantity
The quantity of presentations in any team builds up over time, or can come crashing down like an avalanche when a company conference comes up. SlideCamp comes with an upload and search function, which doesn't just allow you to search the title and tags of every presentation, but also the content within each individual slide. Permissions and sharing features are also available to ensure that the quantity of presentations can be kept under control. Whilst newly created presentations can live in one online location, rather than in many across the company.
2. Quality
Teams often struggle with keeping the quality of presentations the same across the board. With employees each having a different individual take on what the company branded template should really look like. But by using SlideCamp's slide library the quality of presentations will stay at the same professional level. Creative employees will be able to display information in different ways rather than go off brand, and any new need of creativity can be channeled by simply requesting a new slide template from us.
3. Making full use of Previous Presentations
Repurposing presentations for different functions is also important to managing presentations properly. SlideCamp enables you and your team to share links to your presentations instead of having files clog up your company computers with many versions of the same thing. At the same time managers are also in a much better position to proofread presentations before they are made, catch-up employees who have been away, and give a boost to productivity when lost time in presentation design is no longer an issue amongst their team.
Making presentations manageable will have different solutions for different teams. But by putting aside a little time to consider quantity, quality and proper use of presentation slides, you're sure to improve your presentation process for your whole company.

Basically
Problem: We have too many presentation files flying around everywhere,
with no sustainable organizational solution in sight.
Solution: Addressing quality, quantity, and making full use of every presentation results in using presentation management to sort everything out.
From zipping up files to cloud services, and presentation police to Slack, this article explores the various ways other businesses out there make their presentations manageable.